NOTE TO TEACHERS AND LIBRARIANS
As a writer for young people, a professional daydreamer, and an ex-lecturer in chemistry, I enjoy giving talks to groups of students. I have visited over 200 libraries and schools, some on an annual basis. I have run sessions with all ages from Year 3 to A-level students and adults, but the most pertinent age groups for my novels are Years 6-13. I have performed in front of groups of all sizes (5 - 700). In other words, I am very flexible with regard to audience size but my favourite audiences are single or double classes, say 25-60. I don't mind large audiences at all but I feel that students themselves get less out of such sessions. Most of my sessions have been 50-90 minutes in duration but my record is 3 hours 30 minutes!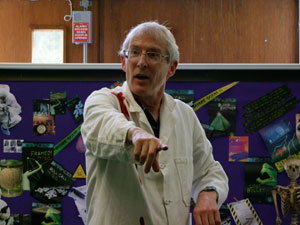 If a school or library has a particular interest in crime writing, I can also offer an interactive talk that involves a lot of forensic science. This has proved very popular because of my two crime series called THE OUTER REACHES and TRACES. It lasts about an hour (but would be better if a bit longer). In part, it involves the young audience watching me carefully and working out what evidence I am leaving behind (fibres, saliva from a pretend cough/sneeze, handwriting, fingerprints, shoeprints, etc). I can even demonstrate a few of these things 'live'. I have given the talk in many schools recently and the science museums in Cardiff, Birmingham, Glasgow and Manchester. It has been written up in the TES under the title 'Clued up for Crime-solving.'
I have developed a talk specifically for the JORDAN STRYKER books. It entails lots of information about Jordan, his missions and the medical technology behind Jordan's amazing body enhancements. It includes video of actual robotic limbs in action. I call it 'Character Building with Jordan Stryker.'
In general talks, I tell students a little about myself, including my background as a lecturer in science, but concentrate much more on the topics of why and how I write stories. I deal in particular with the processes of getting an idea and turning it into a story by getting inside characters and developing the plot through their eyes. I do this with humour, usually by telling a short story about myself as a scientist but I embroider into it a lot more excitement than ever occurred in one of my labs. This approach has proved to be popular with all students up to Year 10, but especially with boys. I can also contrast science and fiction writing, talk about researching novels and short stories, redrafting, and I am happy to take on requested themes like how to get a book published, jacket designs, and so on.
With younger students, I centre my talks on my popular crime stories, including the TRACES and THE OUTER REACHES series. These books are strong on forensic science, and more character-based than is perhaps usual in the genre. With older students (13+), I also cover my character- and issue-based Simon & Schuster and Scholastic books written for the 14+ age group. Some themes in these books have been chemical and biological weapons, creating life from scratch, the weather used as a weapon of war, the ethics of the arms trade, cloning, racism and face transplantation.
I tend not to give extended readings because I am not the world's greatest out-loud reader and because I cannot then include all of the points that I would wish to make. Rather, I read small sections of my books to illustrate those points.
I also run workshops on creative writing, concentrating on formulating ideas, the opening paragraphs, developing dark stories, and the research needed to carry the story forward. In this case, the smaller the number of participants, the better. One class is the upper limit and the duration should be at least an hour.
In any library or school session, my main aims are encouraging reading and writing, and illuminating the strange business of being a writer. I welcome questions of any sort. I am always particularly enthusiastic when my sessions impinge on current creative writing projects at a school. Then, I hope to be helpful as well as merely informative and entertaining. I tend not to indulge in much self-publicity. My publishers would be happy to send out publicity material if required and local bookshops normally provide sale-or-return books if a school wants its pupils to have an opportunity to buy books (and get them signed).
To discuss the possibilities in more detail or to book me, contact me directly through this site (Contact Me). Alternatively, contact any of my current publishers (see Malcolm's Links).