ABOUT MALCOLM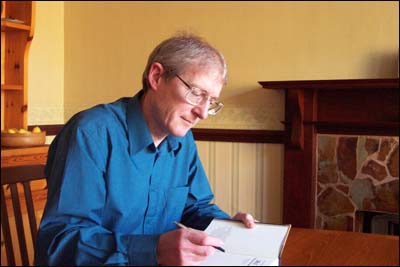 Believe it or not, until Easter 1996, I was a Lecturer in Chemistry at The Open University. I carried out research in analytical chemistry, particularly in the area of health, and I taught mainly organic chemistry. The teaching part of the job predominantly involved writing, with some radio, TV and video work. It also left very little time for fiction writing which I tackled mostly after midnight. Perhaps that is why some of my strongest scenes are set on dark nights! Anyway, I am now a full-time writer.
Many people think it odd and fascinating that a scientist should also be a novelist but I don't find it strange. After all, scientists have to be creative and show perseverance to carry out research. They also write a lot; in particular, they produce textbooks and articles on their research. Anyone who is imaginative, can stick to a task, and knows how to construct a sentence has the credentials for writing a novel. On top of that, my chemical research was aimed at understanding a little better some aspects of human life. A novel also seeks to illuminate some aspects of human life. The aims are similar even if the tools are different.
I reckon novel writing is not so removed from chemistry as you might think. In one life, I mix chemicals, stew them for a while and observe the reaction. In the other, I mix characters, stir in a bit of conflict and, again, observe the outcome.
I began writing stories while I was carrying out research at York for my DPhil degree in chemistry. Writing became a means of escape from everyday life. While I was at York, my then girlfriend (now wife) read my efforts and commented that I ought to try and get something published. I had never thought of writing as anything other than a hobby. Besides, as I thought then, a budding chemist couldn't possibly be any good at it! Anyway, I joined a writers' club to find out how to submit a manuscript to a publisher and, to cut a long story short, found a publisher in William Collins for my first novel, Rift.
I am now over half a century old, married to Barbara and have one son (Colin) who is an architect. I read all of my stories aloud to Barbara and Colin and they help me with their comments. My thirty books can be classed mainly as thrillers or crime and you'll find a list of them – with descriptions – under 'Books.'